4FRONT - THE ULTIMATE COMMERCIAL FITNESS TREADMILL
The 4Front is not just a treadmill; it is our commitment to providing the most innovative, longest lasting, and most comfortable treadmill solution to all of your fitness needs. The 4Front was designed to mimic the feel of running outdoors and to provide the user with a dynamic, low-impact workout every time.
It is the next generation in a long line of products that feature exceptional comfort and versatility courtesy of WOODWAY's patented Slat Belt running surface.
The 4Front comes fully equipped with 3 different training modes including traditional, dynamic and resistance.
FEATURES
DYNAMIC & RESISTANCE MODES
Dynamic mode allows the belt to spin freely allowing the user to train and power the belt like a non-motorized treadmill. Users can perform various exercises using the free belt providing for a full body workout.
Resistance mode enables the user to choose between different levels of resistance facilitating HIIT exercises and performance techniques.
SLAT BELT TECHNOLOGY
WOODWAY treadmills feature state-of-the-art technology that provides the user with an experience unlike any other. Our treadmill belts are comprised of numerous individual shock-absorbing slats that have been scientifically proven to reduce harmful shock to joints, muscles, and connective tissue; a luxury you won't experience on any conventional treadmill.
LOWER OVERALL COSTS
Many of the features that make WOODWAY treadmills more comfortable also make them more durable, resulting in less of a need for maintenance and/or replacement parts.
Unlike conventional treadmills with a conveyor belt style running surface, WOODWAY treadmills feature a patented running surface made up of vulcanized rubber. This allows our running surface to last for more than 240,000 kilometres, roughly ten times longer than the belt of an average treadmill.
LESS MAINTENANCE
Each treadmill is designed to create significantly less friction and wear, resulting in a belt that will never need tracking adjustments, waxing, and flipping of the deck; since there isn't one.
LESS ELECTRICITY
In addition to less wear and tear on its components, WOODWAY's unique design is also more efficient, requiring about 50% less electricity to operate compared to a normal treadmill.
The combination of maintenance and electrical savings results in a lower total cost of ownership with less downtime than a conventional treadmill.
RUNNER'S CHOICE
The 4Front can be seen in many of the world's top fitness facilities and classes for its commitment to excellence and dependability.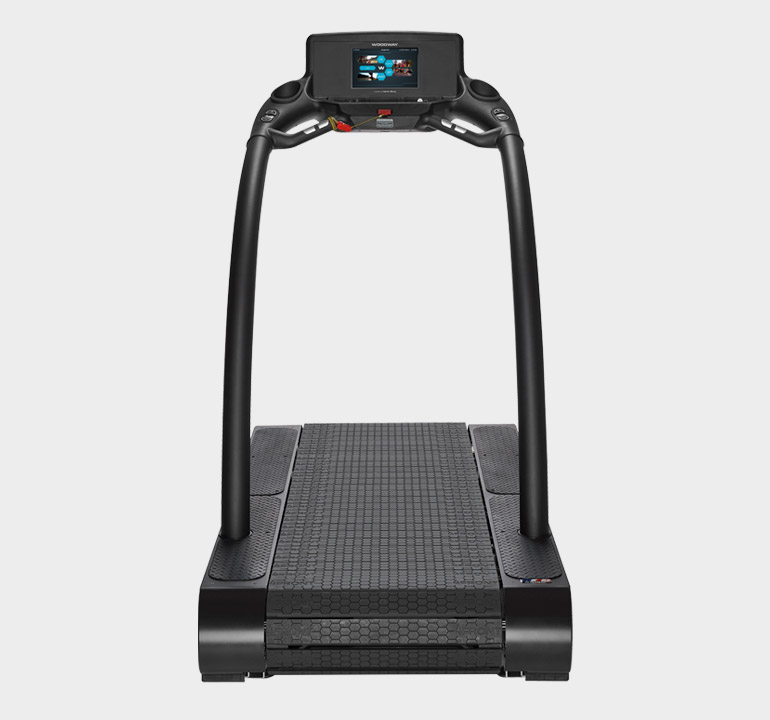 PROSMART TOUCH SCREEN
Where Artificial Intelligence meets Fitness Intelligence, the Woodway ProSmart Touchscreen is a revolutionary training console designed to enhance user experience and create a one-of-a-kind workout catered to each individual's goals. With dynamic Smart Coach Programs, entertainment options featuring Virtual Real and Game Runs, browsing and streaming capabilities, and customizable workouts, the ProSmart is designed to capture an incredibly innovative dynamic experience based on each user's specific profile settings.
The intelligence goes beyond just the workout though. The ProSmart allows for full customization providing each facility the ability to personalize every aspect of their user' experience with colors, logos, and themes. Not only does the ProSmart come pre-loaded with workouts, but it also introduces digital heart rate, data analysis via STATS, and much more!
FEATURES
APPLE TAP TO PAIR AND GYMKIT FUNCTIONALITY
RUN WITH FRIENDS BY PAIRING TO APPS LIKE ZWIFT
VARIOUS WORKOUT DASHBOARDS
Digital Quickset – improves you HIIT workout experience
Polar View – Run in your preferred heart-rate zones
HIGHLY CUSTOMIZABLE TOUCHSCREEN
Fully customizable user interface for clubs, gyms and studios
Custom brand standards, colors, logos, and club specific content
Specific personalized user profiles, workout summaries and settings
ENTERTAINMENT
Be more engaged in your workout with Real Runs and Game Runs in real world environments like San Francisco or virtual gaming environments like Skyrim and The Witcher.
Browsing and streaming capabilities including Netflix and Hulu
3RD PARTY ASSET MANAGEMENT
The ProSmart software captures data on a millisecond basis which allows for greater visibility into workout metrics and equipment uptime.
USER SPECIFIC SMART PROGRAMS
Follow along with Smart Coach Guided Programs, a goal oriented four to six week progression of our programs tailored to your progress and individual metrics.
Workout Customizer
User Workout Data Tracking
Custom Workout Summaries
Guided Profile Set Up allows "getting started" to be defined with accurate user information
STATS
Backend website for club management and end user. Clubs can assess need for service, do preemptive maintenance, and monitor treadmill usage over time. End user can collect workout information, analyze in visual formats and export to 3rd party fitness apps.
DYNAMIC QUICK KEYS
Adds any speed held for 30 seconds or more to a list of favorites.